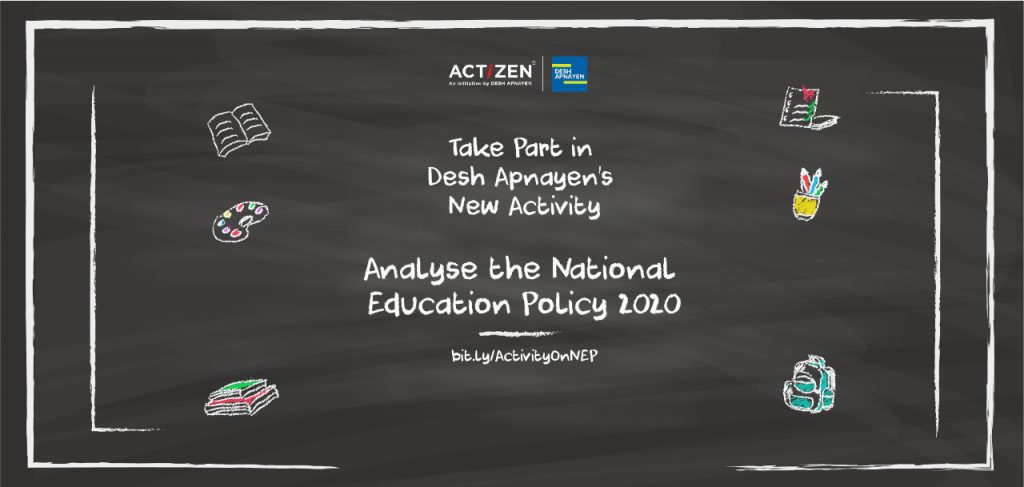 Analyse New Education Policy
Type of Activity – Online/In-Classroom Activity
Introduction
Policy formulation is the development of effective and acceptable courses of action for addressing an issue. Policies can be either public or private, depending on whether it is pursued by the government or a private company, respectively. The process of making a policy, private or public, involves going through a number of interdependent stages. These are: problem identification, committee setup, policy formulation, policy adoption, policy implementation and policy evaluation.
A good educational foundation leads to a better quality of life for the citizens of a country, and hence a government places a major emphasis on educational policies. In today's class, we will focus on India's New Education Policy, 2020.
Grades recommended: 9th-11th
Approximate time: 45 minutes
Expected Outcomes
Students will understand various components of policy and the process of developing a policy.
Students will be able to study and analyse the New Educational Policy, 2020 with respect to its importance.
Students will be able to gauge the impact of NEP 2020.
Teachers' Section : Steps for the Activity
Introduce the topic to the students.
Explain to the students the stages of developing a policy.

Identify the issue/problem that needs to be solved
Identify the committee to find that solution
Collect information
Draft policy
Consult the stakeholders
Finalise policy
Implement the policy
Monitor, review, and revise (if required)

Give the students the following hypothetical example and go through aforementioned steps of developing a policy, to find a solution.
Many students of a particular area can't get admission in the school because of lack of seats in classrooms. The Municipal authorities decide that the schools should have two batches a day to accommodate more students. Authorities have to develop a policy to help the schools' transition into this new routine seamlessly.
Issue: Inability of students to enroll in school due to lack of space.
Committee: Municipal authorities, school trustees and principal.
Collect Information: School timings that are feasible for the students, number of classes/subjects in a day, school bus timings, new teachers to be hired, meal-plan twice a day instead of one, etc.
Stakeholders: Students, parents, teachers and other school staff
Draft the policy: The batch timings will be 7:30 am-12:00 pm and 1:00 pm to 5:30 pm. There will be 6 periods in a day of 45 minutes each, with a half an hour break, etc.
4. Play the video in your online classroom in students' language of preference –
Hindi: https://www.youtube.com/watch?v=BIJBveGlgo0
English: https://www.youtube.com/watch?v=8unW9RAwB5s
5. After students watch the video, discuss how the NEP 2020 followed the stages of development given in point no. 2.
6. Ask students to take the short quiz created to assess their understanding of the topic. (Available in 'Students' Section')
7. Allow the students to fill the reflection sheet as part of homework. (Available in 'Students' Section')
8. Kindly fill the feedback form given here to let us know how effective this activity was for you and our ACTIZEN students.
Students' Section : Introduction – New Education Policy (NEP)
On 29th June, 2020, our Union Cabinet approved of a New Education Policy (NEP) 2020. This is India's third education policy. The first one was in 1968 and the second one came into being 1986 which was then revised in 1992. This policy's aim is universalisation of education for children between the ages 3 and 14.