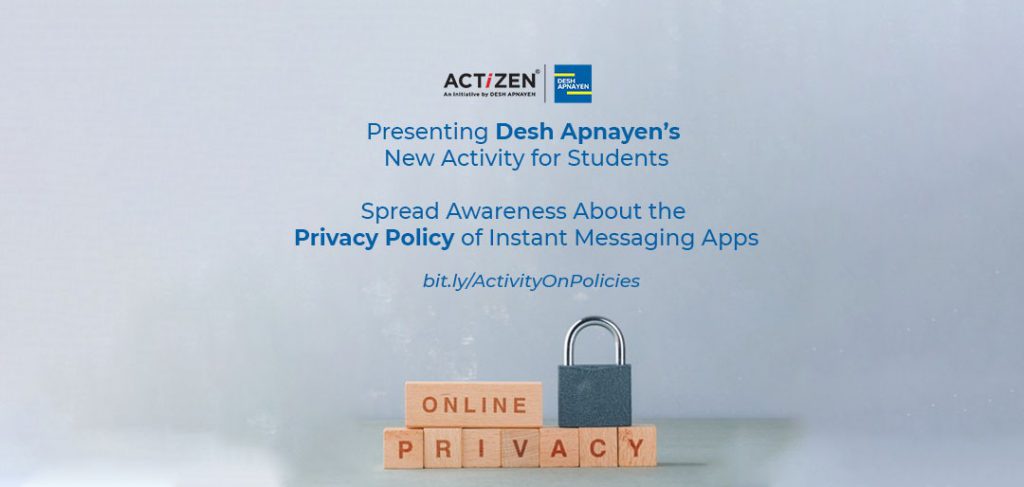 Policy Formulation – Instant Messenger Privacy Policy
Type of Activity – Online/In-Classroom Activity
Introduction
Recently, WhatsApp updated its privacy policy which caused a great commotion amongst the users and led to a severe backlash. Since then, WhatsApp has been trying to remedy the situation by giving full-page advertainments to explain the reasons for the change in policy. In today's lesson, the students will learn about these privacy updates and will be able to compare it to other instant messengers, such as Signal and Telegram. They will also be accountable to share their learnings with other civilians.
Expected Outcomes
Students will become aware of the change in WhatsApp's privacy policy and will be able to analyse the pros and cons of it.
Students will be able to compare and contrast between different instant messenger platforms' policies.
Students will bring about awareness of this change amongst their family and friends by taking a survey.
Students' Section
Please read the privacy policy of WhatsApp and write answers of the following questions in notebook:
Upon deleting your account, will WhatsApp delete all information they hold on you?
Can WhatsApp use the metadata gathered from your messages and voice calls to train Facebook's new AI-based product?
You create a WhatsApp group to organise a protest against a new government policy. Apprehending trouble, the police write to WhatsApp requesting them to provide information on all group members. Can WhatsApp provide this information to the police?
When you use WhatsApp from your home to send a "pin on a map" (to help your friend find your house), is that address collected by WhatsApp?