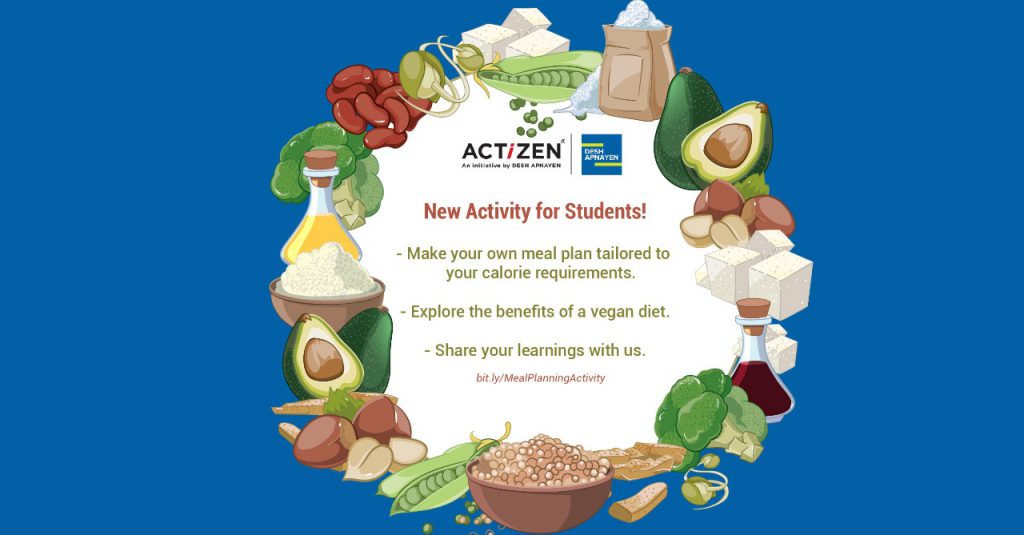 Nutrition and Meal Planning
Type of Activity – Individual Level Activity
Introduction
National Nutrition Week is celebrated every year in October to make people aware of sound health by eating nutritious foods and to get them to know the importance of good nutrition for their bodies.
In India, food symbolises ethnic culture and identity, which has motivated people to innovate extensively with food sources like grains, cereals, greens and meat. Hence, Indian cuisine varies from region to region, reflecting the diverse cultures in the subcontinent, making it a unique blend of various cuisines across Asia and has also influenced cuisines across the world.
Expected Outcomes
Students will:
Understand the value of nutrition for healthy living
Analyse the calorie requirements of their own body and their family
Participate in meal planning and involve themselves in making healthy habits by following the same in their life
Activity 1 –
Note for the teacher –
Divide students in groups of 4-5 students in each group.
Share the Calorie Chart, Food Chart and Meal Plan template with students in advance.
Ask students to plan a one-day meal plan for themselves according to their age group (both for males and females). For that, you can also divide the groups – gender-wise.
Motivate them to read and understand the Meal Plan chart at home, select any particular age and gender and prepare the meal chart for one whole week by discussing in their group.
Activity 2 –
Study about a vegan diet. What is it? How do people follow a vegan diet? What would be the benefits and challenges in adopting a vegan diet for you and your family?
Now make a meal plan for 1 day using parameters of a vegan diet (No consumption of food items of animal origin, but enough calories as per the age group selected).