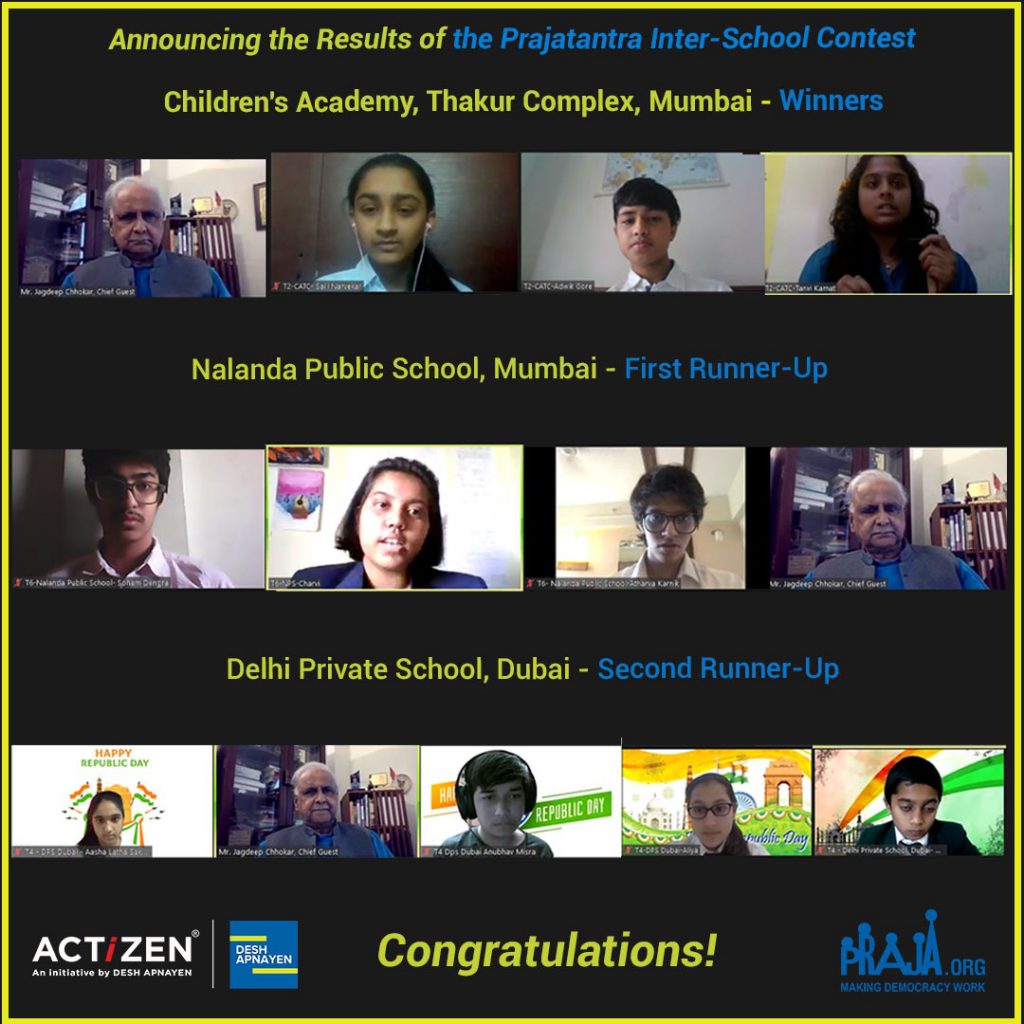 "There cannot be daily democracy without daily citizenship." – Ralph Nader
As India enters into the 72nd year of its constitutional republic on 26th January 2021, we need to recognise that the principles laid down in the Constitution and the democratic republic it sustains, are fruits borne out of the constant effort of its citizens (or ACTIZENS, as we at Desh Apnayen call them). With that in mind, Desh Apnayen and Praja Foundation presented 'Prajatantra: An Inter-School Group Presentation Contest'. This initiative is part of Desh Apnayen's efforts to engage students across India on certain Days of National and International Importance. 
We hope this effort will create greater awareness on key issues among students, and help shape future leaders who become torchbearers of the ideals laid down by the Constitution of India.
The Grand Finale of the Contest was held on 29th January 2021 from 2 to 4 pm and streamed live at https://youtu.be/LRiqDXxtMxE  We are honoured that Shri Jagdeep Chhokar, Co-Founder and Trustee, Association of Democratic Reforms and Director In-Charge, IIM Ahmedabad, joined us as the Chief Guest. 
Shri Vallabh Bhanshali, Founder and Chief Mentor, Desh Apnayen and Shri Nitai Mehta, Founder and Managing Trustee, Praja Foundation also shared thought-provoking insights. 
To share your thoughts on the initiative, you can leave a comment at https://www.facebook.com/events/165697344891025  
For any queries, please write to info@deshapnayen.org or WhatsApp 8898890202 / 9029890291. 
About Desh Apnayen Sahayog Foundation
Desh Apnayen was founded by Shri Vallabh Bhanshali, Co-founder and Chairman of ENAM Securities, and his associates in 2015. Its vision is to co-create Democracy 2.0, by building an accountable citizenry and society around three important themes: citizenship education, volunteerism and neighbourhood engagement.
Schools that would like to start the Desh Apnayen ACTIZENS' Club, take part in monthly activities, or access the ACTIZEN Education Content can write to info@deshapnayen.org or 8898890202. The programmes are offered at no cost to the schools.
About Praja Foundation
Praja is a non-partisan organisation working towards enabling accountable governance since 1997. It believes that urban governance in India has failed to deliver good governance to the citizens of urban India, and that this is due to the governance structure of urban India. It also believes that the lack of true grassroot democracy where local elected representatives and local governments are not sufficiently empowered and not responsive to the citizens is the primary cause for lack of effective governance in cities.
Praja undertakes data driven research for identifying capacities in urban governance, map inefficiencies in their work processes and identify best practices. It then provides this information to urban governance stakeholders including elected representatives, administration, citizens, media and academia; and works with leadership amongst its stakeholders to identify and address inefficiencies in building their capacities to improve work processes in urban governance.