Anti-Bullying Law/Policy
in Schools
Type of Activity- Research Based Activity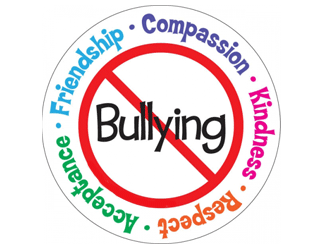 Picture source – https://sciennesnewsflash.blogspot.com/2014/11/anti-bullying-week.html
Introduction
"Bullying behaviour abuses an imbalance of power to repeatedly and intentionally cause emotional or physical harm to another person or group of people. Isolated instances of hurtful behaviour, teasing or arguments between individuals would not be seen as bullying." (Torfaen definition, 2008)
Bullying generally takes one of these four forms:
Indirect – being unfriendly, spreading rumours, exclusion, tormenting (e.g. hiding bags or books)
Physical – pushing, kicking, hitting, punching, slapping, or any form of violence
Verbal – name-calling, teasing, threats, sarcasm
Cyberbullying includes all areas of internet misuse, such as nasty and/or threatening emails, misuse of blogs, gaming websites, internet chat rooms and instant messaging,threats over text messaging and calls, and misuse of associated technology, i.e. camera and video
Other types of bullying include: • Racial bullying • Homophobic bullying • Bullying based on disability, gender, appearance, or circumstance
In India, there is no separate legislation to deal with bullying at the school level. Bullying is prevalent at the school level in India, especially in boarding schools. However, in 2015, the HRD ministry directed CBSE schools to form anti-ragging committees at the school level, also declaring severe punishments to students indulging in bullying, including rustication (in the rarest of rare cases).
In view of the importance of the issue of bullying and its harmful effects on students, this month we at Desh Apnayen have come up with a very interesting research activity for students to help them understand the need for an anti-bullying policy for their school and become a part of a drafting committee to set up the rules and possible punishments for themselves and their fellow school mates should a need arise
CBSE Guidelines –http://cbseacademic.nic.in/web_material/Circulars/2015/17_Prevention%20of%20Bullying%20&%20Ragging%20in%20Schools.pdf
Expected Outcomes
Students will gain knowledge about bullying, its harmful effects on students, and the importance of anti-bullying laws in their own schools.
They will recognise their own role in drafting rules and reporting cases of bullying to ensure a safe and threat-free environment in their surroundings.
They will be able to make a draft policy and understand the major components of any policy.